Hidden underground station between Ueno Sta. and Nippori Sta. -Tokyo Metropolitan Selected Historical Building "Former Hakubutsukan Dobutsuen Station"
"Former Hakubutsukan Dobutsuen Station (旧博物館動物園駅, Museum Zoo Station)" where you can meet in around a 15-minute walk from Ueno Station. In the past, this station played a role as an underground station between Keisei Ueno Station and Nippori Station on the Keisei Electric Railway Main Line. This time, we're going to introduce its history and highlights.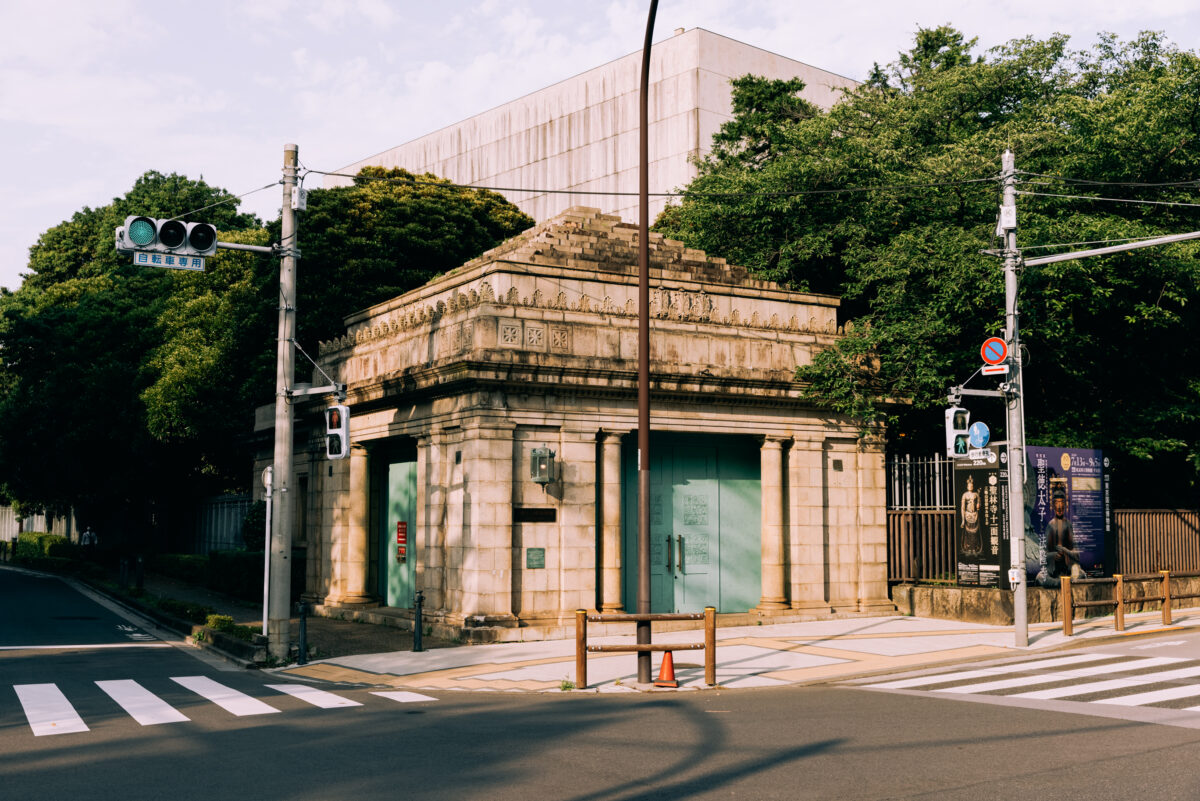 The station opened in 1933 before World War Ⅱ. It had been used as the nearest station to the Imperial Household Museum (now the Tokyo National Museum) and Ueno Zoo. However, due to a decline in the number of passengers, it stopped operation in 1997 and closed in 2004. Currently, you can see the doorway because the station office and the platform are located underground.
The place on which the Former Hakubutsukan Dobutsuen Station is located is called 'Seiden Goryochi'(世伝御料地), which has been handed down the generation of the imperial family. Considering this station was started to be built in such worthy land, it was designed in a majestic western style. In addition, this building became the first railroad facility selected by 'Tokyo Metropolitan Selected Historical Building' in 2018. Renovation of the station was also carried out, and it reborn as a symbol for modern cultures in Ueno. The classical appearance with pink stones called Sakura Mikage(桜御影) is very attractive.
By the way, the newly constructed door for renewal was designed by Katsuhiko Hibino who is the Dean of the Faculty of Fine Arts at the Tokyo University of the arts. The door is decorated with symbolic pictures that symbolize Ueno including Ueno Zoo, Tokyo National Museum and National Science Museum, so please pay attention to them.
Address
13-23 Ueno Park, Taito-ku, Tokyo Prefecture
Access
Hotel Gracery Asakusa: A 12-minute walk from Ueno Station which is 3 stations away from Asakusa Station on the Ginza Line
Akihabara Washington Hotel: A 11-minute walk from Ueno Station which is 2 stations away from Akihabara Station on the Yamanote Line
Hotel Tavinos Asakusa: A 12-minute walk from Ueno Station which is 2 stations away from Tawaramachi Station on the Ginza Line
URL
https://www.keisei.co.jp/keisei/hakudou/index.php
Base of this trip
3-min walk from Asakusa station on the Toei-Asakusa line / 5-min walk from Asakusa station on the Asakusa line

1-min walk from JR Akihabara station / 2-min walk from Akihabara station on the Hibiya line

つくばエクスプレス浅草駅 徒歩4分/東京メトロ田原町駅 徒歩9分/都営浅草線浅草駅 徒歩12分